Have you ever wondered if there is a single solution for all your workplace training challenges? If yes, then here you go!
Introducing Olive VLE – the virtual learning environment. It is a one-stop solution that addresses the entire enterprise training lifecycle. The e-learning suite comprises a set of learning technology tools that enable you to create, deliver, manage and evaluate your training. The platform allows you to manage content creation and delivery, evaluate learner performance, and analyse the effectiveness—everything from a single learning suite. 
The e-learning suite to tackle all learning challenges
Olive VLE strives towards an inclusive, easily accessible, and progressive tomorrow. We want to provide everyone with a trustworthy helping hand as you train online while putting your comfort first. By using Olive VLE, you can :
Create a holistic culture of learning that goes beyond functional skills

Eliminate onsite training costs

Speed up the onboarding of new employees, clients, partners, and other stakeholders

Improve the skills and knowledge of your workforce.
Our products and services
We have a handful of products and services specially curated for your virtual training needs. Our outstanding products and services include :
Mykademy

– Olive VLE's flagship

learning management system

– Mykademy, is a cloud-based, flexible and highly scalable

LMS platform

. It has a sleek design and outstanding functionality that can be used by any team or organisation. The platform is suitable for individual tutors as well as corporate companies to create, deliver, and monetise online courses. It provides excellent features like SCORM compliance, multi-lingual support, course bundles, coupon codes, payment gateway integration, and many more that can give you an incredible virtual training experience.
Apprenticeship management software

– Olive VLE's

Apprenticeship management software

is developed to enhance apprenticeship frameworks, standards and training. It is beneficial for organisations to hire, retain and upskill their people, close skill gaps, get new opportunities, achieve training goals, activate results, and boost employee satisfaction. The

apprenticeship management and tracking software

also offers features such as work process competencies, DOL Compliance, chat functionality, and much more, focusing on usability.
Training management system

– Olive VLE's

training management system

is a complete solution for training providers. It is specially designed for corporate training providers to provide them with a competitive edge and help them succeed in the market. With the

training management system

, you can avoid the usage of multiple spreadsheets and manual data entry processes. Furthermore, the system offers plenty of powerful features like course management, event management, venue management, booking management, finance and invoicing; the list goes on.
Document management system

– Olive VLE's

Document Management System

is cloud storage to securely store all necessary documents related to online training courses. DMS offers better accountability by maintaining documents' authenticity, reliability, and integrity. This tool increases efficiency but with reduced dependency on paper. It helps in the end-to-end management of documents, from creation to disposition. DMS can be utilised for a higher level of security against unauthorised access to documents and the risk of tampering, corruption, leaks, and disappearance/loss.
Community forum

– Community Forum, aka

Learning Experience Platform

(LXP), is a

cloud-based LMS

forum where training and trainees communicate with each other and socialise to strengthen their bonds. This social channel allows people to share information, learn, appreciate, talk, interact, and engage. LXP resolves the communication gap during remote learning. Here, anyone can post or read messages anytime, making it convenient for community members to get along better, making work easier.
AI Content Pro –

AI-powered video generators

are changing the way businesses make videos. Olive VLE's AI Content Pro helps make videos much faster than traditional methods, which gives you more time to do other productive things. The content creation AI engine automatically makes high-quality videos for your specific target audience by using artificial intelligence to analyse the content you already have. With these tools, it's easy to make high-quality videos that capture the essence and message of your brand.

AI video generators

can help you personalise your marketing strategy and connect with your audience more deeply.
Skill library

– Concerned about not having ready-made courses? An

LMS with a content library

is all that you need. Olive VLE's skill library is a prominent part of the

e-learning suite

. The skill library provides you access to hundreds of pre-made courses penned by subject matter experts that can be utilised to train your workforce and bring great results. The

off-the-shelf eLearning library

is filled with interactive and easy-to-learn courses. Some of them are made as mini-lessons to reduce cognitive load. On the whole, this

eLearning content library

is perfect for upskilling your employees and achieving L&D goals.
Bespoke content

– Not every organisation can depend on pre-built courses and if ready-made courses are not your cup of tea, try creating customised content. And if you cannot create by yourself, get your hands on Olive VLE's

bespoke content

. We have a team of experts to help you get tailor-made content using narration, rich media and stunning visual designs. The customised content is created through multiple steps and processes to ensure quality.
Olive XR – Olive XR is a powerful combination of WebXR, MR (Mixed Reality) and VR (Virtual Reality). With this, you can take your training to the next level by making videos quickly and adding augmented reality for a more immersive experience. XR can be used in any training situation, no matter the industry. Make your training highly interactive, incredibly interesting, and realistically stimulating. The XR videos will definitely get the attention and inquisitiveness of the trainees. Upskilling has never been more promising. The learning curve can be significantly shortened with tech-based videos. Olive XR ensures reduced training time, better engagement and a higher retention rate.
Olive VLE is a proud pedigree of the Olive Group, founded in 2006 by Brendan Kavanagh. The company developed a cost-effective solution to support individual trainers and giant enterprises and make their online training journeys struggle-free.
Olive VLE - Microsoft Teams integration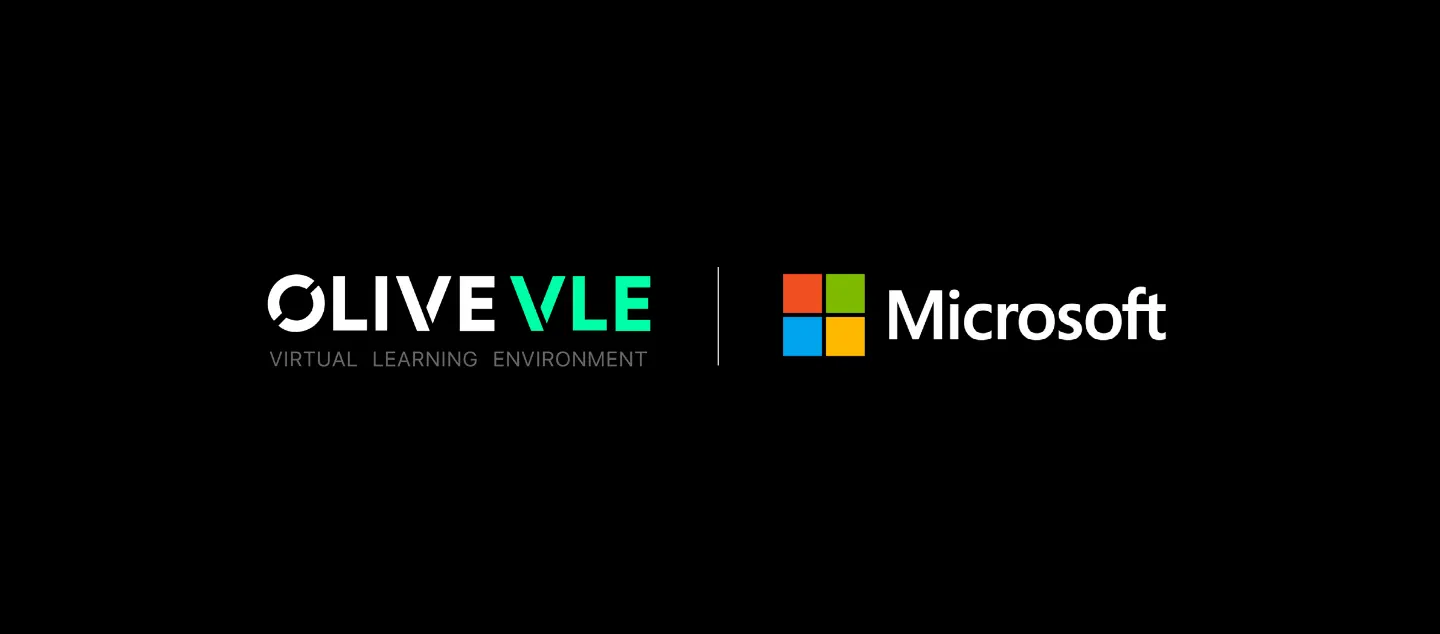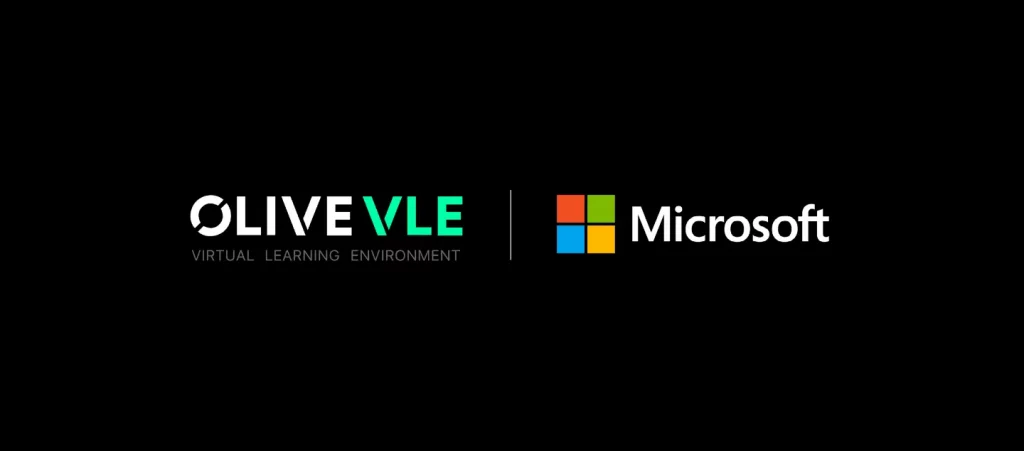 In collaboration with Microsoft Ireland, Olive Group's e-learning experts designed and developed 'Olive VLE'. The application addresses the issue of online education, which has been stagnant for many years – disconnected legacy systems with poor experience have restricted that engagement. Olive VLE app is different because it is a purpose-built learning experience that is easily deployed and customisable with access to high-end interactive digital content.
Olive VLE's integration in Microsoft Teams takes interactivity and engagement during online Teams sessions to the next level, delivering seamless trainer-trainee interaction with easy-to-use tools. The live virtual classrooms are enhanced with breakout rooms for group work and discussions, creating an incredible and immersive environment for learners. Olive VLE allows the impact of learning to be demonstrated through robust assessments, delivered securely and efficiently, ensuring the learning cycle is complete.
Olive Group has received several industry-recognised honours in a relatively short period of service. Recently we got labelled as one of the best corporate learning management systems for 2022. All the awards we have received so far result from collective hard work, and we take pride in it.